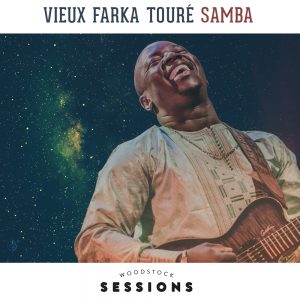 Vieux Farka Touré, often dubbed 'The Hendrix of the Sahara', is an internationally acclaimed touring guitarist, singer, bandleader and humanitarian activist. Hailing from Mali, he is the son of the late, legendary African bluesman Ali Farka Touré.  Since Vieux began his career in 2007 he has released a slew of albums and has toured the world many times over.
When the producers of the Woodstock Sessions, the hybrid/live recording series in Woodstock, NY, asked Vieux to stop by in 2015, he didn't have enough time to make it happen.  Intrigued, he promised to return the following year.  Making good on his word, the result of that incredible session is now Touré's
newest album, Samba.
The ten songs on Samba are all brand new.  Given Touré's natural musical curiosity, the far-reaching blend of Malian blues and praise song, funk, reggae, and rock make this his most mature, well-rounded effort to date.  The live element, where Touré excels as a performer, shines through on every track.  This is not your average performance.
Watch "Homafau Wawa" from "Samba"