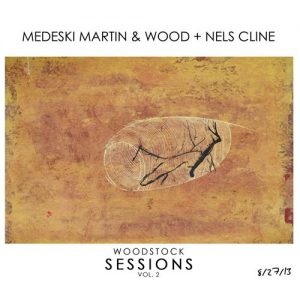 Medeski Martin & Wood + Nels Cline came together to perform a show/recording session in front of a live audience on August 27, 2013 at Applehead Studios in Woodstock, NY.
John Medeski's intro to the audience:
"Michael (from Applehead Studios) and I have been talking about this for over two years now. We're all trying to figure out what to do in this crazy music business, how to keep things going & above water, how to keep the music real & keep the connection with the audience real.
This is a great space. Beyond just being a recording studio it sounds so good live that we thought we could find a way to play for people here and get something special out of it.
Last year we had the good fortune of working with Nels Cline. We did a run at the Blue Note, where he was a guest artist one night and just blew our minds—not only with what an incredible musician he is, but also with how well he fit in with us and where he inspired us to journey musically.
When we talked to Nels about recording something, we felt live was the best way. And we started thinking again about this idea of an intimate concert/studio situation that would be a cool experience and fun for everyone. It seemed like the perfect thing to do.
We wanted to play together, record it, and not have to fix everything in the computer. Sometimes you go into the studio and start thinking too much. It changes everything. It might end up great, but it doesn't have the same feeling as getting together to improvise and create in the moment for the moment. This is our moment with Nels!"
This recording is a hybrid of a live recording and a studio record. We hope you enjoy it!