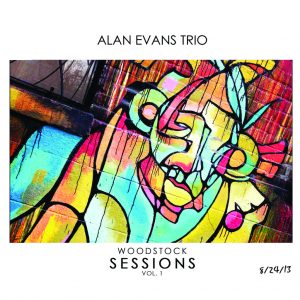 August 24 2013

On the night of August 24th, 2013, a small group of fans joined the Alan Evans Trio at a small farm/recording studio turned venue in Upstate New York, acting as the catalyst to the free and inspired sense of playing that the three embody. The energy of the crowd added something truly unique, creating an atmosphere that was captured here on this album.As cars arrived, the grazing animals took notice that they'd soon be sharing their hidden farm. A wooden barn lay tucked up a dirt road and buried into its surroundings. The setting for the evening couldn't have been more apropos, as that night's creation would be as musically organic as where it was made. The Alan Evans Trio and Applehead Recording Studios played host to the first installment of the Woodstock Sessions, a pioneering idea bringing a band and its fans together to share in the birth of an album.
After enjoying a feast and absorbing the elemental surroundings, AE3 and fans made their way inside the humble barn and entered a room that felt sanctified. The intimate space allowed the newly bonded group to gather in tightly for a prodigious experience. Alan Evans, Danny Mayer, and Beau Sasser took their positions, and the recording began without the ability or desire to stop. Two hours later, the final notes rang out to a symphony of cymbals and it was realized that this was music in its purest sense. "No overdubs, no second chances – just a moment captured in time," as summed up by guitarist Danny Mayer.
This is music for the music lover. What was left behind is not just notes to a beat, but a perfect balance struck without compromise – the energy of a live show and the sound quality of a recording. Whether you argue they took the concert to the studio or the studio to the concert, one thing can be agreed upon: this was the way music was meant to be heard, an album as live as it could ever be…so live you can feel it.
—Jeremiah Shea